Living in Saudi Arabia
Attire
While not at work, how should I dress? Do females have to wear an abaya?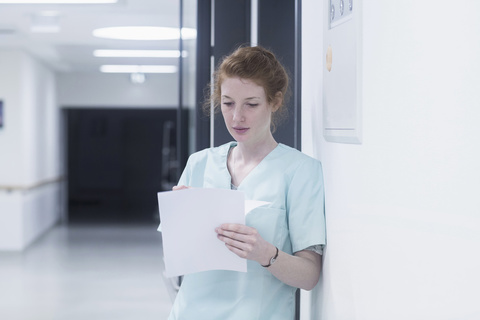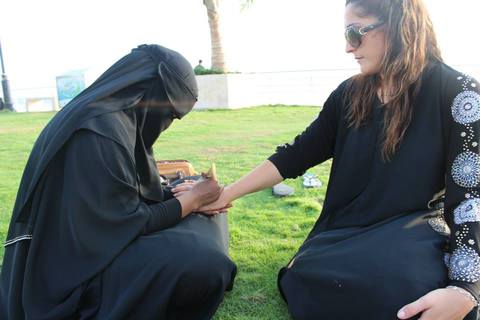 Yes. Women are required to wear an abaya in public. The hospital staff, who volunteer to help with the orientation, will often help you secure your first abaya.
An abaya is like a black, lightweight cloak that drapes over your clothing. You will find these available in all price categories. They must be black and hang to your ankles However, these days it is not unusual to see abayas with embroidery, sequins and appliques. You are encouraged to carry a scarf to accompany your abaya to cover your hair when requested. Abayas are often sold with a matching scarf so you do not have to buy them separately. A veil is not required.
All clothing worn in public places must be modest. Clothing worn in the hospital grounds and the housing compounds can be more casual. You should remember that your clothing should be loose and cover both your knees and elbows. In western-only areas, such as private beaches or pools, you may abide by western dressing standards. You can exercise in women-only gyms and recreational facilities. At home, you may wear whatever you wish. There are no restrictions on shoes. Nurses are required to wear white shoes at work. The hospital provides the work uniform, but you must bring your own shoes.

Men should wear conservative clothing in public (long sleeves, no shorts). Hospital area and housing compounds are generally more lax with the dress code. It is wise to have some suits for occasions. Jewelry should also be worn conservatively (i.e. wedding ring and a watch is enough).
What kind of clothes should I bring?
For a good portion of the year it is hot, so keep this in mind when packing your wardrobe for Saudi Arabia. We suggest you bring some lighter garments in addition to your professional and casual wardrobe just for comfort. Man-made fiber apparel such as linen and cotton items are popular, as are long skirts that let the air circulate around your legs. Cotton undergarments can help with the heat too.
This said, because of the heat, the hospital and most commercial places are heavily air conditioned so you may want to bring a longer sweater or jacket with you for indoor environments.
While it is a fact that Saudi Arabia is a conservative society, and females have to wear an abaya and sometimes a scarf when in public when at home, you can wear almost anything you want. In your free time, many nurses have a lot of fun and attend private parties, events and concerts at the embassies. To these events, you can wear the same sort of clothing you would wear to similar events at home. If you like to swim, bring a bathing suit. If you are swimming in the women's pool of your compound you can wear a two piece. If you are swimming in the coastal waters, a conservative one piece swimsuit is the best option. For working out you should bring your favourite work out gear.
Can I wear jewellery?
Of course! Shopping for gold jewellery in the souqs is a lot of fun.
Banking

How do I open a bank account, and how to I transfer my money?
Banking is as sophisticated and easy as it is in your home country. Opening a bank account in Saudi Arabia is very straightforward. First, you will need to obtain your IQUAMA, which is an ID/resident card, which can take a couple of weeks. The first time you go to the bank it will take some time to set up your account, internet banking etc. After this, you can transfer money on line or through ATM machines which are located, for example, in the hospitals.
You will get a debit card so you can use ATMs for cash - just like at home. The ATM machines in Saudi Arabia accept most cards from all over the world via systems like Plus and Cirrus.
Can I use a credit card in Saudi Arabia?

Saudi Arabia is generally a cash society, but some major department stores and hotel restaurants accept credit cards.
Housing

Does the hospital help with housing /supply accommodation?
Yes. Our client hospitals provide free, furnished accommodation including free utilities and all furniture. These accommodation complexes are usually called "compounds". A compound is a private set of villas or apartments surrounded by a perimeter wall. Normally they are located close to the hospitals with free transportation provided between the accommodation and the hospital as well as to the city center and the main recreational and commercial areas.
See some videos here.
Is the accommodation shared?
It depends on what is available when you are next to be allocated accommodation. Regardless, you will always have your own bedroom. There are numerous different accommodation complexes in each hospital and more is added all the time as the hospitals grow - so there is a choice. You will fill a form outlining your preferences regarding accommodation before you travel. The hospital will then make the allocation. Generally, most nurses are very satisfied, but they will move you if you are not pleased. All of our client hospitals offer good accommodations.
Vacation
How much vacation do I have?

You could have up to 61 days leave in one year depending on the hospital.
When can I take my vacation?
New employees must first complete a 90-day probationary period. During this time, leave is granted mainly for emergency situations. After the probationary period, you can schedule your leave with your ward manager as the schedule allows.
Do I get holiday flights?
Some hospitals offer one ticket mid-contract.
Can I take my family?
Married status contracts are only awarded to senior nursing, administrative staff and medical Consultants.
Can my family visit me?
Yes, family members can get a visa for 90 days at any one time. The hospital will facilitate this for you. However, you will be responsible for all costs associated with their trip, and the hospital does not supply accommodation.
Can my friends visit me?
It is relatively easy to secure visit visas for up to 90 days at a time.
Communications
You can get an Internet connection in your house. SIM-cards are easy to purchase. Most public areas have free Wifi
Free Time
As a woman can I walk around freely?
Yes, you can go anywhere on your own at any time. All the hospitals have drivers to take you places. You can also take a taxi that will be outside your housing.
As a woman can I take a taxi or bus on my own? What about driving?
Great question, as there is a lot of misinformation on this topic on various websites. Especially to the question "Why?" It is true that women are not allowed to drive motor vehicles in Saudi Arabia but the law is changing on this in June 2018. But most importantly, getting around Riyadh and Jeddah is easiest in taxis or via private transportation arranged by the hospital or compound where you live for the simple fact that driving and parking is very difficult. Both Riyadh and Jeddah are extremely congested.
Because oil and gas is so plentiful in Saudi Arabia, taxis are very inexpensive (often just $2-3 USD for a cross-town trip.) Taxis are plentiful and easy to book. It is estimated that there are 31,000+ licensed taxis to operate in Riyadh and Jeddah. Many drivers speak at least some English, but learning basic terms is never a bad idea.
What are the social activities?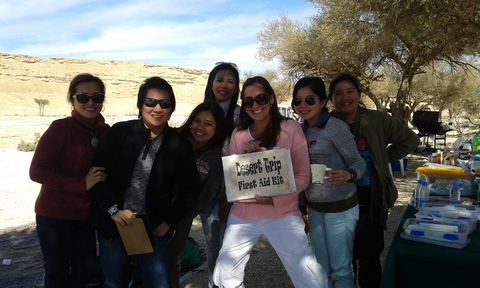 You can do pretty much everything you would do at home! Most new nurses join an Employee Social Club which is a great way to meet new colleagues. There is shopping in the old town or any of the numerous modern shopping complexes. There are great restaurants for eating out. You could also go to the nearby beaches. Expats often host dinner parties and the embassies host fun concerts.

Of course, there are also many expatriate amateur clubs. There are as well numerous sporting activities, including aerobics and weightlifting at modern gyms, basketball, billiards, cricket, cross country and road running, scuba diving or snorkelling, sailing, fishing, football, golf, tennis, horse riding, rugby, gym, drama, various book clubs... The list is endless!
What is the shopping like? Can I find everything I need in the stores there?
Most things that are available in North America and Europe are available in Saudi Arabia, with the exception of items that are prohibited, such as alcohol, pornography, and pork products.
Groceries are open at convenient times.
Pharmacies are open at convenient times. A lot of pharmaceutical products can be obtained over the counter.
Clothing, both high-end and sportswear are easy to find.
There are lots of consumer electronics stores that sell the latest computer, audio and video equipment. DVDs are also available but expect that many will be censored. Many Saudi Arabians and expats watch films via satellite and download movies from the Internet.
Jewelry shopping in the gold souqs is popular among the expatriates.
Can females try on clothes at the stores?
This is a good question! In large women-only malls such as the "Ladies Kingdom" at the Kingdom Centre Mall in Riyadh, women can try on clothes just like you would at home. Where it can get tricky is at other malls where sales clerks are men. If you are shopping at a mall where the clerk is male, we suggest you purchase the garment and take it home to try it - or if you are time pressed most of the restrooms have changing room sections.
Are there cinemas?
Yes
What about food? What is it like?
You can find almost anything you like to eat in Saudi Arabia that you can find in your home country. Many of the foods in the supermarket will be familiar to you. You can buy produce at the supermarkets, but it is quite a fun experience to buy fresh produce at vegetable souqs (markets).
As the saying goes "When in Rome..." We love authentic Middle East cuisine - for example, hummus and pita bread, baba ghanoush and tabouleh is fantastic. Pretty much the only thing you cannot readily buy is alcohol and pork products.
What kind of restaurants can I expect?
There are hundreds of restaurants to select. They are ranging from restaurants at a five star hotels to the local fast food kiosk selling delicious shawarma sandwiches. You will readily find Pizza Hut and McDonald's plus their Arabic equivalents. For something different, you can pick from a wide array of ethnic cuisines including French, Thai, Italian, Japanese, Egyptian, Chinese, Indian, Mongolian, Indonesian, Lebanese, Pakistani, Filipino, Turkish, Korean, Malaysian, American or even an English Fish 'n' Chips.
Where can I go at weekends?
For the long weekend trips, Saudi Arabia has much to offer in the way of history, culture, geography and geology. An off-road vehicle is necessary for the more ambitious traveller. After your 90-day probationary period you can also travel abroad. The neighbouring countries are only about an hour or two away via plane, so many nurses chose to explore them during a weekend trip.
Popular destinations include:
The Nabatean tombs in Madein Salah (500kms north of Jeddah)
The Hijaz Railway (made famous by Lawrence of Arabia)
The crater and The Wildlife Centre east of Al Taif town
The mountainous Asir region south of Jeddah, with the cities of Abha and Khamis
Desert or beach camping - the Red Sea coastline extends for over 1,800 km
Diving the islands and reefs off the Jeddah coast
Jeddah is also well placed for international travel. Other Middle Eastern countries + Egypt are within 2 hours flying time - considered no more than commuting by the locals. Further afield, the delights of Africa, Eastern Europe, Asia and the Far East are within reach.
What about alcohol?
Alcohol and products such as liqueur and chocolates which contain alcohol are prohibited by Law. Please do not bring alcohol into the country.
Health
Can I get my prescription medication filled in Saudi Arabia? Or should I bring my medication with me?
You can get most prescription medications in Saudi Arabia and it is usually covered by your health coverage. Note if you require a specific brand name of the medication, you should inquire in advance if that brand is available.
If you choose to bring medication, bring a supply that will last several months. Be sure to keep your prescriptions in the original container from the pharmacy which states your name and the name of the medication. This is especially important when you are carrying medication on the airplane.
Can I smoke?
Yes. Smoking is legal in Saudi Arabia, but women should not smoke in public.
Personal Care
Can women wear makeup?
Of course! Saudi Arabian, as most Arab women, are very skilled with makeup, especially eye makeup.
What about getting my hair cut, colored or permed. Are there beauty shops with expertise in styling African American hair?
Almost any hair service you would like is available in Saudi Arabia. Just like home, colleagues often refer their favorite salons. Not every salon is expert in styling African American hair, but there are definitely salons that do and your colleagues will share their favorite places.
Are there spas in Saudi Arabia?
Yes, and the good news is spa treatments are often cheaper than they are back home. Spas in Saudi Arabia offer a variety of treatments, including massages and facials as well as manicures and pedicures.
Religion
As you would expect, religion is an extremely complex topic so our comments below should be considered only the briefest of overviews. If you are interested in this topic, there are many good books you can read to learn more.
Religion means so many different things to everyone - faith, community, history, power, family, and even understanding the universe. It is all too easy to think of Islam as a scary or threatening religion when lots of Western media depict mostly images of Islamic terrorists killing and being killed. We believe this is a very inaccurate picture of what Islam is all about!
In fact, religion - Islam or any other - often provides an enormous sense of comfort, understanding and community to people. Islam teaches peace, personal freedom, tolerance and charity - the same basic principles taught by Christianity and Judaism.
It is true - religion plays a larger role in Saudi Arabia than almost anywhere in the world. Saudi Arabia is the birthplace of Mohammed and of Islam, and the holy cities of Mecca and Medina are off limits to non-Muslims. Islam is the official and only religion of the country. It is common to see people in places such as the hospital waiting rooms and at the airport reading the Quran.
Religion definitely plays a large role in the daily lives of Muslim citizens and expatriates, but also to a certain extent, in the daily lives of non-Muslim expatriates as well. For example, Prayer call is one of the five pillars of Islam. You hear it 5 times per day, and faithful worshipers often head to a mosque or prayer room each time the call is heard. If you are a non-Muslim, you just need to be sensitive and understand that if you are in a restaurant, the grocery or shopping, you will not be served during prayer time. Certainly, it takes a little getting used to, but the religion of Islam is deep in history and a beautiful tradition.
Unlike the US and many other countries where the topic of religion is considered a personal question, you will almost assuredly be asked about your religion both on applications and during the visa application forms. If you apply for a visa to enter Saudi Arabia, and do not wish to disclose your religion, you will not be issued a visa. In most cases you do not have to specify your particular sect (e.g., Methodist, Episcopalian, Catholic, Lutheran or Baptist,), but you do have to state "Christian," "Muslim," etc.
Visas are not granted to individuals who list their religion as "Agnostic" or "Atheist" for the simple reason that most people in Saudi Arabia believe having some religion is good. Additionally, "Jewish" is another complex area. In a demonstration of solidarity with Palestine, Saudi Arabia does not grant visas to people who list their religion as Jewish.
It is very important to understand that taking a job in Saudi Arabia does NOT mean you are expected to become Muslim. Although non-Muslims cannot openly practice their religion, what you do in private (e.g., private prayer) is your own business.
Vacancies: