Located adjacent to the Kingdom of Saudi Arabia and therefore offers a good alternative for a weekend trip. It is a small country on the coast of the Arabian Sea and has some amazing traveling destinations. It is one of the most traditional Arab countries. The economy is based on the huge oil reserves, just like in the area's other countries, but it also has a larger agriculture and fishing industry in relation to the size. The population of the country is a little over four million. The main attractions in the country are the cities of Muscat and Salalah as well as the mountain Jebel Akhdar.

Omani people are well renowned for their kindness and hospitality. Omanis are considered as one of the happiest nations in the Gulf and they are hoping the same kind of attitude of tourists. Therefore you should always wear a smile on your face when talking to Omanis. This will make them more comfortable and you will certainly be answered with a smile and kind words! However, it is good to remember they are a conservative society and should be considered as one. Their culture should be respected with proper clothing and behavior, just like in every Arab nation!

Reasons Oman should be the next place you visit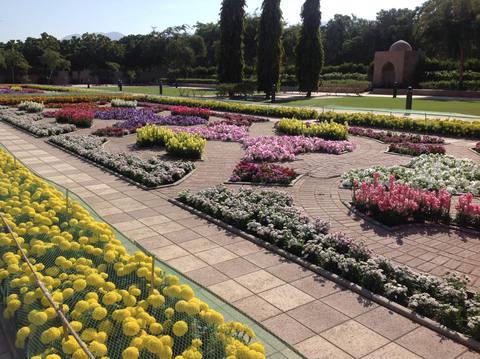 Muscat

Muscat is the capital and the largest city of Oman. The city has a population of approximately 800,000 people. Muscat itself is quite a different type of capital compared to, for example, Riyadh and Abu Dhabi. It features a much more traditional Arab style with less tall buildings and even the most functional buildings are required to reflect tradition with a dome or an arabesque window. This makes Muscat look attractively clean city that is truly a very unique capital in the area.

As mentioned earlier, Muscat is a different capital compared to other Middle Eastern major cities. It offers something new and refreshing, but has also the perks of being a large city. There are large shopping malls available, such as Muscat City Center and Muscat Grand Mall. The city also offers some notable reminders of the past. The most notable places being port district of Muttrah and the quarter of Old Muscat. One can also find traditional Souks that are worth the visit. As there is no shortage of sunshine in Oman either, one can bath in the sun in one of the beaches available.

Muscat offers wide range of hotels to choose from. It has some luxurious hotels to offer, as well as some for lower budgets too. Visitors are sure to find a suitable one. There are restaurants from every part of the world and one can find food very cheaply, for about 1-3 Rials per person, depending where one eats. If you are looking for a fine dining experience, there are restaurants that offer it as its best in some of the hotels and elsewhere in the city.
Flying to Muscat from Riyadh can be relatively cheap. There are lots of flights operated between the two cities and the round trip can be found for less than EUR280 (c. £200 and c. $305). The flight time is just over two hours.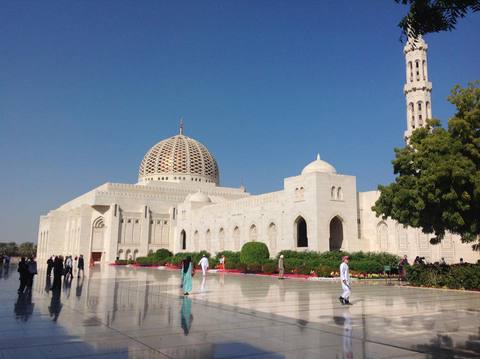 Salalah

Salalah is the capital of the Dhofar region and it is the second largest city in the Sultanate of Oman. It is considered by some as "the paradise of Arabia", because when all other Arabian countries are blazing hot, Salalah experiences the khareef season and cool drizzles. Salalah offers an experience that is so different to Muscat that it might be hard to imagine them being in the same country. Salalah attracts lots of tourists, especially during the Khareef season, which lasts from July to September. The area features some amazing resorts as well as natural parks that offer views of the mountains, lakes and wildlife. Wadi Darbat is one of these parks and is definitely worth visiting.
Eastern Salalah is considered as the best bird-watching area in the Middle East with a chance to glare at seagulls and falcons along the shoreline of the Arabian Sea. The beach of Salalah is fantastic and worth seeing. The Western area of Salalah is rich in history and tourist attractions. It is there, where the Khareef festival takes place annually. This includes music and dance performances from different groups and one can enjoy many other fun activities as well.

Salalah offers lots of history for the visitors to embrace. There is Al Baleed Archeological Park, few museums, Tomb of Nabi Umran and many other places worth visiting. The area also offers astounding chances for diving, and therefore it is common for people to travel there to enjoy the rich sea life. There are many different dive sites and they are also suitable for beginners. Also, courses are organized for people wishing to try the sport!

Finding an accommodation suitable for one's budget and taste is relatively easy as there are lots of different hotels available. The prices range from about $50 to about $160 depending on the kind of hotel one chooses. This makes it a great destination for all tourists! Getting to Salalah is easy. It is a one hour flight from Muscat or a lengthy 12 hour bus drive. However, there are many things to see during the bus ride from the capital to Salalah!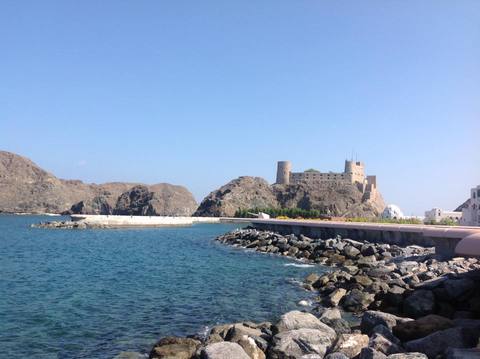 Jebel Akhdar

Jebel Akhdar ("The Green Mountain") is part of the Al Hajar mountain range, which is one of the country's most spectacular areas. One can find amazing resorts there to spend time watching over the amazing views of the mountains. The landscape is beautifully rough and untouched and offers something unique that cannot be found in many other places in the neighboring countries. One can find resorts that are up to 2000 meters above sea level and the views are absolutely breathtaking.

The region is an absolute paradise for trekkers and amateur geologists. There are amazing trekking paths between small mountain villages such as Al Ain and Al Aqr. These paths offer spectacular views and allow one to see the life lived in these villages that are as close to earth as one could imagine. Another place worth giving a visit is Wadi Ghul, Oman's Grand Canyon. It is a drop of over a kilometre, with dramatically bent vertical rock faces opposite. It simply takes the breath away.

As well as in Muscat and Salalah, also here are differenet type of hotels for tourists to pick out the one that suits their needs the most. There is available pure luxury and some authenticity and everyone will surely find an accommodation to their needs. Getting to Jebel Akhdar from Muscat by car takes approximately two and a half hours and the distance is less than 200 kilometers.
For a video of one of the resorts available, click here.