Cambridge University Hospitals NHS Trust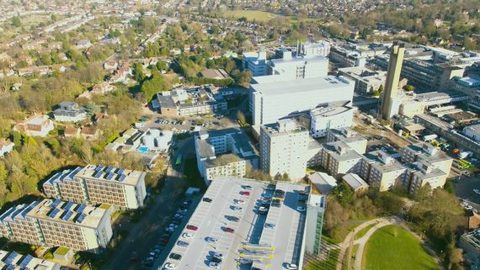 Cambridge University Hospital NHS Trust is one of the largest, and best known Trusts in the United Kingdom. Situated in the historic city of Cambridge, the Trust has a rich history of breaking barriers of modern medicine and providing compassionate care for the community. It still upholds its pioneering spirit and continually strives to be on the edge of medical research and improve outcomes for patients.
Cambridge University Hospitals is one of the top leading teaching hospital in the UK. The NHS is the fifth largest employer in the world with over 1.2 million staff. The Trust provides healthcare for people in the Cambridge area, in eastern England, and specialist services such as transplantation, treatment of rare cancers and neurological intensive care for a much wider area. It is located on the Cambridge Biomedical Campus and runs Addenbrooke's Hospital and the Rosie Hospital. Addenbrooke's provides emergency, surgical and medical care for local people and is also a regional centre of excellence for specialist services such as organ transplantation, neurosciences, paediatrics and genetics. The Rosie is a women's hospital and the regional centre of excellence for maternity care. It has its own theatre suite, foetal assessment unit, ultrasound department, and neonatal intensive care unit. It is a member of the Shelford Group, an informal organisation of ten leading English university teaching hospitals.
As part of the NHS, they deliver expert care for patients - locally, regionally and nationally - while the vibrant teaching community equips and empowers their staff for the future. They also benefit from and contribute to some of the most important biomedical research in the world today.
What they offer:
Cambridge University Hospitals sits in the heart of the Cambridge Biomedcial Campus and is part of the internationally renowned research campus which has seen a huge expansion over the last 20 years. Research is central to the role and function of this specialist teaching hospital. In 2017, it was awarded £114 million from the National Institute of Health Research to the Cambridge Biomedical Research Centre, a research partnership with the University of Cambridge. There are approximately 1,000 research studies underway at one time covering a range of health conditions including common conditions like diabetes and heart disease, through to specialist research in rare dementias and rare cancers. The hospital recently expanded Cambridge Clinical Research Facilities offering 24/7 clinical beds to support Phase I and Phase II studies. In addition there is support to set up and initiate studies from the Cambridge Clinical Trials Unit, the Research & Development Department, the Cambridge BioResource and in processing and managing studies an onsite pharmacy and BioRepository. Cambridge is one of the 13 Genomic Medicine Centres and the lead site for the East of England Genomic Medicine Centre, part of the 100,000 Genomes Project which is sequencing whole genomes of people with rare diseases and cancers.
Vacancies: