What our nurses say?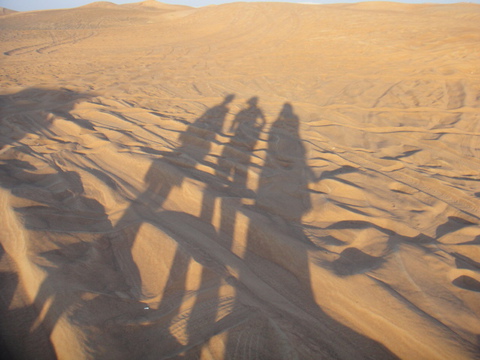 "I came to Saudi rather than somewhere like Dubai because I thought I would save money here and I have been able to do it!"
Housing:
We have our own apartments and don't need to share them with anyone. Staff nurses have studio apartments, with separate kitchen and bathroom. Higher grades get a larger apartment with a separate bedroom. Everything is free except internet access. There is a newly renovated gym, outdoor pool, laundry facilities and small mini market on site. I use the mini market for basic things like water. It is delivered to our doors (and I live on the 3rd floor). They refill a 6 gallon drum for only SR 6 after you pay an initial SR 20 deposit for the drum. I have also realised that it is worth paying an extra for heavy items such as orange juice, milk etc as it cuts down on what I have to carry up the stairs when I've been to the larger supermarket for my weekly shop!
Meet and Greet:
Two men met me at the airport. One was the representative from the hospital, the other was the taxi driver. We used the hospital taxi. Both of them were very friendly and made me feel welcome right from the start.
Orientation:
We had a four week orientation programme where you will be supernumerary for that time.
Getting around:
There are free buses laid on every day and night to a variety of places, such as shopping malls, fish market, vegetable market, the old town etc. There is an Ikea store here, very popular with the locals and very cheap and useful for adding touches to our apartments. You will also find many other familiar shops like M&S, Debenhams, New Look etc.
There are also free buses to take us to a private beach, which is north of Jeddah about 30-40 minutes away. The beach resorts are fairly exclusive and we join a sort of club by buying a book of 10 tickets to enter. At the moment the price is SR 1000 for 10 visits. The private beach tends to be used by Westerners mostly.
Probably one of the best things to do here is to go out on a dive boat on the Red Sea. It really does feel like having a one day holiday! You don't have to be a diver, you can snorkel or just come for the ride. This costs about SR 250 for snorkelers and a bit more for divers.
There is a hospital social club and they arrange lots of outings etc. I haven't joined in on anything yet, as I have been on leave or working when a trip I fancied has come up. I have got myself onto the British Women's Group email list and they also organise trips and gatherings. For the energetic, there is a Hash House Harrier group, who go on group hikes. I joined one, before it got too warm, and we had a tremendous time hiking in the desert, followed by a campfire supper.
Jeddah old town is well worth exploring, I think they started demolishing it some years ago and then realised it was their heritage and so are now preserving and restoring the old buildings. There are also lots of bargain shops in this area.
There is a huge selection of places to eat out, it's one of the Saudi's favourite pastimes.
There are numerous hair salons and beauty parlours and we also have a hairdresser also here on the compound.
You certainly don't have to stay on the compound on days off. The main restriction here is the heat! That's why they have these huge indoor shopping malls and the culture is to shop in the evenings.
Mostly what you need here are swimsuits, gym kit and light simple dresses to wear under your Abaya. You will need your fancy clothes and ball gowns for the Embassy parties.
Work:
One of the things I thought would be a problem and isn't, is communicating with the patients and relatives. They are very positive towards the British and love to tell me if they have visited the UK. We have Patient Officers to translate when needed. The language of the hospital is English.
The Arab work ethic takes a bit of getting used to, they have a very laid back attitude We just have to get used to it and try not to be frustrated by it, but it can be difficult sometimes!
So in summary, I'm glad to be here. I'm saving nearly all my salary and that's why I came. I'm making the most of, the gym, the pool, the beach and having no home/garden/car/family responsibilities - just me to take care of!
Vacancies: