Saudi Arabia Info

As key US ally in the Middle East, the Kingdom of Saudi Arabia is the largest nation on the Arabian Peninsula. It has a population of 25,192,720 and a landmass of 2,149,690 km² (or 829,996 square miles) which is approximately one-third the size of the continental United States. Located in southwest Asia, the country is at the crossroads of three continents: Europe, Asia and Africa.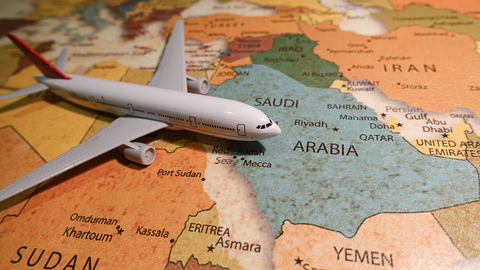 Geographically, Saudi Arabia is divided into five major regions:

Central Region--a high country in the heart of the Kingdom which holds Riyadh as both the region's as well as the Kingdom's capital city.

Western Region - lies along the Red Sea coast and where the cities of Jeddah and Tabouk can be found.
Southern Region - in the southern Red Sea-Yemen border area.
Eastern Region - the sandy and stormy eastern part of Saudi Arabia, where we can find Dammam and Al Hasa.
Rub al-Kahli (literally translated: the empty quarter) is a massive, trackless expanse of shifting sand dunes, one of the largest sand deserts in the world, which covers an area of more than 250,000 square miles.
* It is important to note that, for purposes of administration, the Kingdom is divided into thirteen Administrative Regions.
The stereotype of the Kingdom as a dry, barren desert devoid of almost all flora and fauna is far from correct. Of course, both plants and animals have adapted to the climate but, for those who look, there is a wealth of wildlife to be discovered, even in the desert regions. And there are parts of the Kingdom, notably the Southern Region which enjoys ample rainfall and support a wide variety of crops as well as plants and animals.
The Primary emphasis of the Kingdom of Saudi Arabia has been to develop the nation's human resources to enable all citizens to achieve their maximum potential and contribute to the country's growth, progress and prosperity. To support this, the Kingdom embarked on a number of ambitious programs, turning 30,000 students in 1954 into over four million students in 22,632 schools today. They also increased the health care system's capacity to 41,300 beds in 298 hospitals and created an additional 3,254 health care centers.
Saudi Arabia has committed vast resources on improving medical care for its citizens, with the ultimate goal of providing free medical care for everyone in The Kingdom (source: US Senate Library). Professional Connections works with hospitals in Riyadh, Jeddah, Tabouk, Dammam and Al Hasa, to assist in this goal.
Vacancies: