King Khaled Eye Specialist Hospital, Riyadh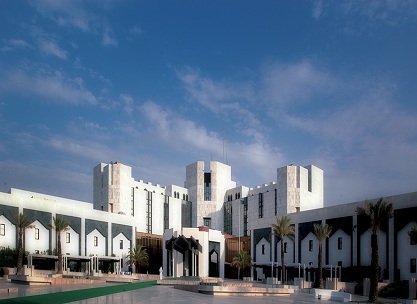 The hospital provides quality tertiary ophthalmic care to the patients it serves and promotes the delivery of Kingdom-wide ophthalmic care through its outreach, educational, and research programs. For more than two decades, KKESH has been recognized for excellence in its delivery of ophthalmic patient care, for its strong educational programs (including continuing medical education seminars and symposium), and training of ophthalmology residents and sub specialty fellows as well as other allied healthcare.

KKESH is a JCIA accredited hospital and is committed to meet the highest international standards. It is also a member of American Association of Eye and Ear Centers of Excellence.
KKESH has 1,216 full-time employees, including 341 nurses and 64 physicians. The physician roster includes 49 ophthalmologists, 4 anesthesiologists, 7 adult internists, 3 pediatricians, 1 radiologists. With the growth and expansion of the ambulatory surgical centers (now called Short Stay unit) to 33, the number of inpatient beds at KKESH has been reduced from 228 to 196.
Departments:

Anterior Segment Division
Glaucoma Division
Medicine Department
Neuro-Ophthalmology Division
Oculoplastics and Orbit Division
Pediatric Ophthalmology and Strabismus Division
Uveitis Division
Vitreoretinal Division
Sorry, no jobs at the moment for this category and search.