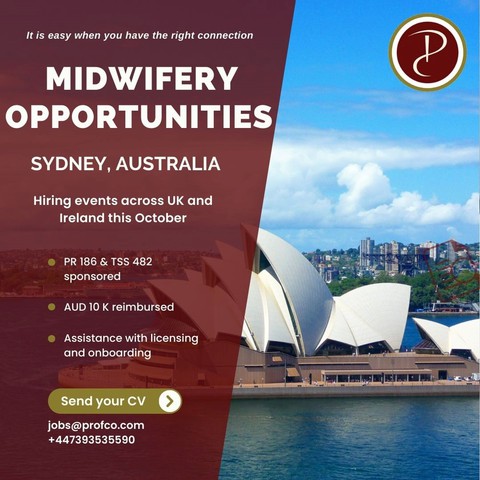 Come work in Sydney. Hiring Events
Dublin 9th October, 2023. Register here
Dublin 10th October, 2023. Register here

Manchester 10th October, 2023. Register here
Manchester 11th October, 2023. Register here
Leeds 11th October, 2023. Register here
Manchester 12th October, 2023. Register here
Manchester 13th October, 2023. Register here
Birmingham 16th October, 2023. .Register here
Birmingham 17th October, 2023. Register here
Bristol 18th, October, 2023. Register here
London 19th, October, 2023. Register here
London 20th, October, 2023. Register here
Are you an internationally trained Midwife interested in working abroad? Consider Sydney. Australia
At Professional Connections we believe that working in Australia could be one of the best things you may ever do for yourself and your family.

Yes, it is visually spectacular, but there is a lot more than that to it! Its residents also enjoy a high quality of life, a superb education and health care system, a stable economic and political environment, clean and safe surroundings, freedom of cultural and religious expression, and technologically advanced infrastructure and transport systems.

Australia is a young and vibrant country with many institutions focused on the future. And they have the track record to prove it - boasting world-firsts in research and innovation, as well as advancements in new technologies, new cures and new ways of shaping a better, more sustainable planet. Australian qualifications are also recognised throughout the world.

The fact is that Australia has one of the best economies in the world and has so much to offer. So if you are potentially interested in a role in Australia, please contact us at jobs@profco.com and we will be happy to discuss your potential options.
Professional Connections will assist you with your application to license as a Midwife in Australia. We secure a job for you, and we advise and assist you with each and every stage of the recruitment and onboarding process.
How to get in touch
Call us +44 2035192258. e.jobs@profco.com whatsApp + 447393535590 https://www.facebook.com/Profco
or apply for a post below
Vacancies: