United Kingdom
I want to Nurse in the UK-what does this involve?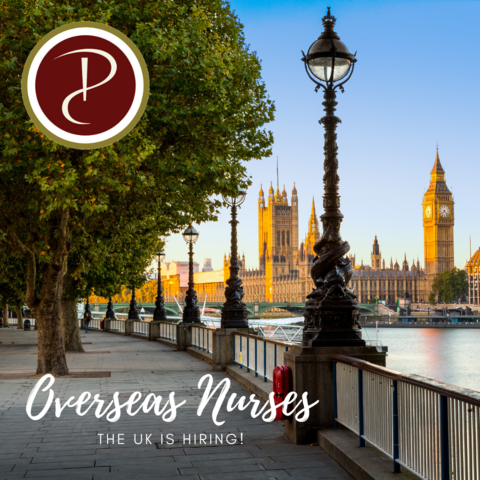 Initial assessment and pre-screening interview

On initial contact, we will review a number of things:
Skills and experience (to assess which jobs you are eligible to apply for)
Eligibility to apply for registration with the NMC (Nursing and Midwifery Council)
English language skills (to ensure that you are able to meet the minimum requirements for work in the UK)
Adult General Nursing Experience required
Practised as a nurse for a minimum of 6 months
Currently employed or has been employed in the last 18 months
Currently registered as a nurse in your native country

English Language Proficiency

The NMC currently accepts two language tests as evidence of your ability to communicate effectively in English.
International English Language Test System (IELTS)

Occupational English Test (OET).
International English Language Test System (IELTS)
If you have completed an IELTS examination, you must provide an IELTS certificate that confirms: an overall score of at least 7 at least 6.5 in the writing section and at least 7 in the reading, listening and speaking sections.
If you have completed an OET examination, you must provide a certificate that confirms: at least a B grade in listening reading and speaking and at least C+ in writing.
Combining Results/Clubbing
You can achieve the required mark across two test sittings if:

you sit the tests within six months of each other
you are tested in all four skills at the same time
you achieve 7.0 or higher in all four fields -across 2 tests- with no individual result being lower than 6.5 (IELTS)
you achieve grade B or higher in all four fields -across 2 tests- with no individual result being lower than C+ (OET)
NMC Application
Applying to the NMC is a straightforward process. Whilst the application is not complicated, however it is very important to submit it correctly first time. Work closely with your recruiter to ensure your application goes smoothly!

Hospital Interview

Once you have passed IELTS/OET, you will be interviewed by the hospital via Skype or during recruitment trip interviews.
Following a successful interview, you will receive a conditional offer of employment. At this stage, you will be assigned a dedicated contact person who will proceed with all necessary background checks - this includes:
Reference checking
Police clearances
Verification of qualifications
CBT (Computer Based Test)

We will help you prepare for the NMC Computer Based Test and once you have passed it, your NMC application can be assessed.
Visa
You will be allocated a Certificate of Sponsorship (COS) once the NMC application is complete and once we have completed all recruitment checks. The COS allows you to apply for your visa. Your recruiter will guide you through this process.
Travelling to the UK

Once your visa is issued, we will assist you in finding accommodation and planning your journey to the UK. We also arrange a 'Meet and Greet' service to help you settle into your new home.
At this time, nurses from red list countries need to stay in mandatory hotel quarantine, the cost will be paid by the NHs Trust employing you. COVID testing during your quarantine is also paid for by your emoloyer.
We know this seems like a long and complicated process! Don't worry - our experienced recruiters will guide you through each stage. In addition to our own expertise, we have partner agencies in some countries to assist our nurses locally. We or our partner agencies do not charge you any placement fees.
#overseasnursingjobs #nurseabroad #NMC #NHS #OET #IELTS #UKNursignjobs #nursingintheuk
Vacancies: