Recruitment Process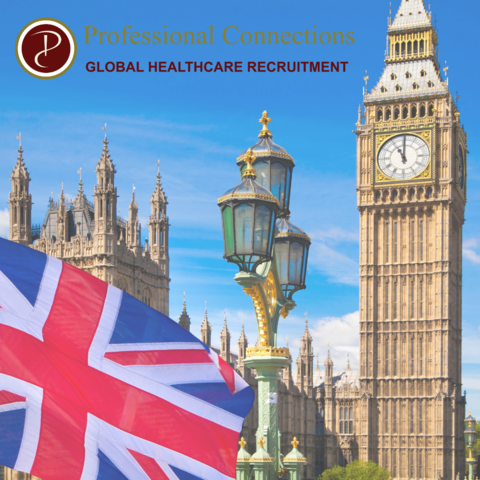 I want to work as a nurse in the United Kingdom, how do I apply?
You can contact us in a number of different ways.
Register on our website, if you haven't already, and use our online CV builder.

Click here to apply through our job board

Email us at jobs@profco.com

Contact us by phone - for local numbers click here.
Once we have enough information from you (ideally, you should send a detailed CV/resume), we will conduct an initial assessment of your application and notify you of the outcome.

If you are shortlisted for a position, we will advise you to begin the process of registering with the Nursing and Midwifery Council (NMC).

What do Bands 5, 6 and 7 mean?
Within the NHS, each job role falls under a different 'band'. Use the links below to read more about the banding system and what this means for you.

How will Professional Connections assist me?
Firstly, we will assess your application to identify all suitable open vacancies. Where there is more than one, your recruiter will discuss all options with you in detail to help you decide which to apply for. Once you have submitted your application, we will keep in regular contact with both you and the hospital to keep you updated on any developments, all the way through to the final outcome of your application.

Following a successful application, we will guide you our application to register with the NMC in the UK. We will also guide you with your visa application.
Finally, we liaise with on-site staff in your hospital to organise your 'Meet and Greet' service. This will ensure that you receive a warm welcome and full orientation upon your arrival.
Throughout the whole process, your recruiter will be on hand to answer any questions and give advice. We enusre that you feel fully prepared to start work and get settled in the UK.

Do I have to take an English Language test?
All nurses applying to join the NMC register must prove that they have sufficient English language skills to communicate effectively. Broadly speaking, this means that if you were not trained in English, you will be required to take an English language test.

To assess your own individual circumstances, please click here to visit the NMC website for the most up-to-date information on their requirements.

NMC accepts 2 different exams - OET (Occupational English Test) and IELTS (International English Language Testing System). It is up to you which one you choose to do but your recruiter will be able to advise you. Please click here for full details of the minimum accepted scores for registration.
Frequently asked questions about NMC IELTS requirements
Further information about IELTS can be found here.
Further information about OET can be found here.

We recommend that all nurses prepare well for the exam. Information on IELTS preparation training can be found here.
What paperwork will I have to complete?
As you would expect, moving to another country to work as a healthcare professional involves quite a lot of paperwork! Don't be overwhelmed - we are here to guide you. We have many years of experience and know exactly how to get you from one end of the process to the other.

We've put together a rough guide below to give you an idea of what to expect.

1. Initial application paperwork
Detailed CV

NHS Application form
Skills Checklist
2. An Interview
You will have to do a literacy and numeracy test followed by an interview that will last 20- 30 minutes. During the interview, you will be asked both general and clinical questions.
3. Post interview
Occupational Health Questionnaire
Criminal Record Clearances

References checks
Obtaining your NMC nursing license
For non-EU applicants Visa application paperwork
Can you tell me about visas for my family?
All visa and immigration information can be found here, on the UK Visas and Immigration website.

You mentioned I need a detailed CV, how much detail is required?
Probably more than you think! When applying for a post outside your own country, those reading your CV may not be familiar with your hospital or the system of nursing in your country. That's why it is important to describe your working environment and the duties you carry out at work.

We have an online CV builder to guide you.

How do I register as a nurse in the UK?
The registration process is not complicated but it can take a while. Please refer to the next section, Nursing and Midwifery Council (NMC).

I am not sure whether I want to apply or not, can I have information first?
Absolutely. Most, if not all, of your questions will be answered on this website. However, you are welcome to call us to discuss your options.

What length of contract will I be committing to?

We recruit for permanent posts. A permanent post means that you can stay as long as you want but do note that non-EU passport holders must maintain their visa.
How long will the process take?
Note that the below timeframes are estimates only. Your recruiter can advise you on your individual case.
Enquiry Week 1

Pre-screening interview Week 1

Hospital interview Week 2

Offer Week 2

Compliance checks NMC Registration, visa process- 4 weeks

Add your notice period
Start to end from six weeks.
How much will the process cost?

Firstly, be assured that Professional Connections does not charge a recruitment or placement fee. We are paid by the hospital that hires you. That being said, there will be some costs involved in completing all of the paperwork needed for the process. We've put together a rough guide below but your recruiter will advise you on your individual case.

NMC application (£140)
Cost of translating and certifying documents
Police clearance certificates from all countries you have lived or worked in as an adult
Certificate of Good Standing from all registration authorities you have worked under (past and present)
Registration fee (£153 once accepted for NMC registration)
How much will I be paid as a UK nurse?

As mentioned above, the NHS operates a 'band' system where each job falls under a specific band. Each band correlates to a particular range on the pay scale. Full details can be found here.
It is most likely that you will be hired as a Band 5 staff nurse. From the NHS Website, the salary scale is:

Band 5
£27,055 to £32,934

In addition to the basic salary, you may also be entitled to an unsocial hours premium - more information can be found here on the NHS website.
High-cost area supplements (HCAS) are paid to all NHS staff groups who are covered by the Agenda for Change agreement on working in inner and outer London and the fringe zones. If you fall into this category, you will be entitled to an additional 5% extra on your basic salary. More information can be found here on the NHS website.

How much tax will I pay?
Vacancies: