King Faisal Specialist Hospital, Jeddah.
Our client hospital is a 300 bedded tertiary hospital and a popular choice for Western Nurses seeking to work in The Middle East. The identified Centres of Excellence are Cardiovascular, Neurosciences, Oncology, and Paediatrics and these will be further defined through expansion in ICU at the end of 2023. Vacancies in all areas for one or two-year renewable contracts. We are hiring a substantial number for ICU and ER. The recruitment process is 6 -7 months depending on the notice period. Commencement dates will be from August to December 2023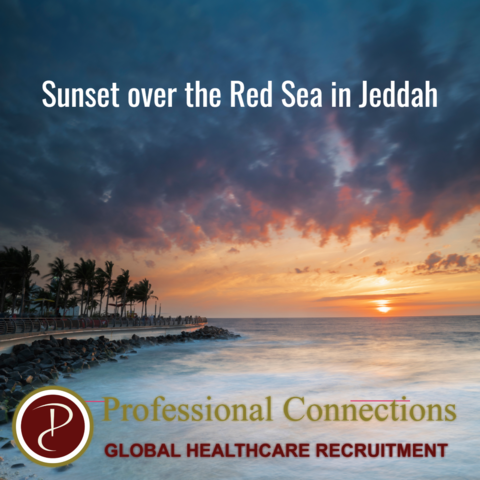 As you read this site, the benefits of nursing in The Middle East have been on your mind. We have been talking to nurses like you for 29 years, whom we have helped make the final decision to nurse abroad. Now is the time to take the next step and apply for a nursing role in The Middle East. Nursing salaries in The Middle East have increased. Why not take advantage of free accommodation with no bills to pay during these inflationary times? You will be able to save a substantial percentage of your tax-free salary. Talk to Professional Connections.
Jeddah:
Jeddah has been a port and trading city for centuries, which is reflected in its cosmopolitan mix of inhabitants. Today, it is a major commercial center in Saudi Arabia. It also has many government offices. Jeddah is known in the kingdom for its shopping districts, restaurants, and cafes. It also hosts the Jeddah Corniche (waterfront area), which is the largest in the Kingdom with a great bunch of hotels, beaches, and resorts clustered around it. To the north of the city, a string of beach resort compounds are known as party spots where many of the social mores of the rest of the country are flouted, especially by rich, liberal families from Jeddah.
Jeddah is also the main entry point, either by air or sea, for pilgrims making the Hajj pilgrimage to Mecca and Medina, the two sacred cities of Islam. Both are a few hours inland from Jeddah.
Jeddah is a huge city that sprawls along the coast of the Red Sea, connected together by the Corniche, a seaside avenue full of bizarre sculptures and nearly 30 km long. The old city or al-Balad, on the southern side of modern Jeddah, is a crumbling but fascinating warren of multi-story houses made from coral. The main thoroughfare Medina Road starts from the northern side of al-Balad and runs all the way to the city. source wikitravel
One or two-year renewable contracts. Lucrative negotiable tax-free, salary, free flights, two months paid leave, free accommodation, free housing utilities, free healthcare.
Apply for the job below or email your CV to jobs@profco.com or chat to us on WhatsApp + 44 7393535590.
Vacancies: