Irish Nurse in Riyadh

"Asalaamu walikom" Hello and greetings from me here in KFSH&RC in Riyadh, Saudi Arabia. It is sunny, dry and hot here now for the summer, about 42 degrees each day. Thank God for air-conditioning and outdoor pools in the complex, to cool down and relax.I am now 8 months here and the time has just flown by. I remain as settled and interested and happy in my new life and role here.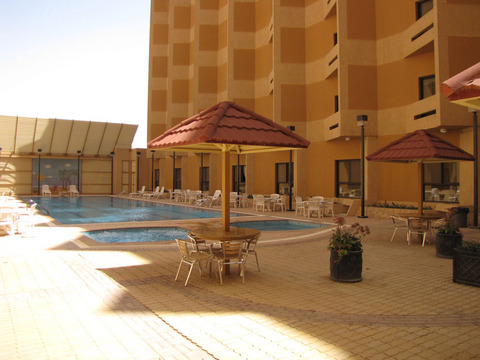 In work, since last writing, I have been very fortunate and honored to have received the prestige nursing award for nursing excellence "the Gold Palm Tree'. I was nominated by the staff nurses on the units I rounded on as Nursing Supervisor for my patient attention and proactive care and my support to them in providing this care. This was indeed a proud achievement for me, for doing my job here.In the last few months, I have also been promoted to Advance Practice Nurse in Palliative Care. Palliative Care is my strong background in my Nursing career. It is a specialized area needing service development here. I am excited for and motivated about, this career challenge and opportunity. Come join me if Palliative care is your area of expertise and passion too.

Coming to KFSH&RC in Saudi has been such a positive life and career opportunity for me. There is no doubt that being in Saudi does require resilience, open mindedness and adaptability as key characteristics.
Providing nursing care here, at the bed-side, for staff-nurses, is indeed challenging, as the nurse has to navigate their cultural and religious practices, as this has a huge influence in their receiving care. This concept has to be experienced by the individual nurse, while here, to be understood fully and is indeed challenging. Hence, you need to be adaptable, resilient and open minded. The nursing staff that work in KFSH&RC are from 64 different countries, so plenty of variety here with different cultural and religious practices of staff, as well as personalities too. Having and keeping up social contacts while here is vital too to keep your spirits up. You will find your own type of new friends here, from the wide variety of staff here. These new friends will keep your spirits up and support you as you adjust to your new work and life here and will also extend your social network so that you have places to go on your time off. These social circles will also give you advice and support as you adjust and settle into your new life here. These friendships, started here, can last a life time, as this unique experience bonds everyone. You also need to be comfortable with your own company and be self-reliant too.
Most of the social scene is via the various Embassy parties, held on the DQ (Diplomatic Quarter) and also by visiting other Compounds (once you are signed in through friends there at their gate) that have many facilities the Western ex-pats are used too. The hospital Retention Dept. also run events to promote socializing here among all staff. There is also a movie night every Thursday, in the Auditorium, for females only, but it lets you see a variety of popular movies and free popcorn too.
Visiting the many and varied huge shopping malls that open till mid-night (be sure to check out pray times first, as all shops/business close during these times). Dining out in the many restaurants and places. Again there is every cuisine to suit every taste from around the world. These activities remain the main activity, for all females here and are very enjoyable too. Ikea is here also in Saudi, so you can indulge and treat yourself and make your apartment have your individual stamp.
Everyone travels a lot to the many amazing places on our door step in this part of the world. I have meet many here who have been to 26 countries in their 2 years here. Having 54 days holiday leave per year is fantastic and when used wisely you can have great breaks from work to fantastic places that you only ever dreamed of before.
If you come here to save or clear debt from home, then you will achieve that too, as the day to day living is not that expensive and it's easier to keep your budget under tabs, compared to living and working in the UAE, for example.
Family members can visit you while you work here too. My daughter is coming to me in August. It will be a unique holiday for her, as tourist are not permitted in Saudi. The paperwork is easily completed and the hospital staff very helpful with all that's needed. So I'm so looking forward to her visit. I have been home once in the eight months (that is by choice, as I choose to go to Dubai and meet my family there instead, for my first holiday, at 3 months into my time here). I go home again, for a long holiday of 33 days, for the month of September.
Time passes here quickly between working your shift hours and your time off filled with catching up with loved ones at home via Skype and emails and Facebook and any other social media you use. Along with having personal massages and pedicures/manicures in your apartment for reasonable prices too. Then of course availing of all the many and varied social activities and travelling, as mentioned above.

It is necessary to also mention here about security and safety in Saudi. These are troubling times and everywhere is at risk, no matter where we live. I have always felt safe here in Saudi, despite some negative media coverage from here. There is no doubt, that no matter where we live nowadays risks exist and we need to be vigilant. I would not let any fear put you off coming here and trying this new life and career adventure, once you are really sure that you are ready, in your life, for this venture.Be patient with the paper work and documentation process that is necessary to be completed prior to coming here. Patience with all processes here, is an invaluable acceptance skill to have, as here in Saudi, everything is done in their own time and rhythm.
Best wishes to you for your plans oncoming out here. Feel free, though the agency, Professional Connections, to link in with me for further advise and support with your decision.
July 2015