Seychelles
Traveling to Seychelles is definitely not the cheapest alternative one could choose. However, it has so much to offer that if one has the chance, it is guaranteed to be worth it. The Seychelles offer a perfect escape from everyday life! Flights from Riyadh to Mahè Island (round trip) cost around EUR700 and upwards and there are hotels available from a wide price range.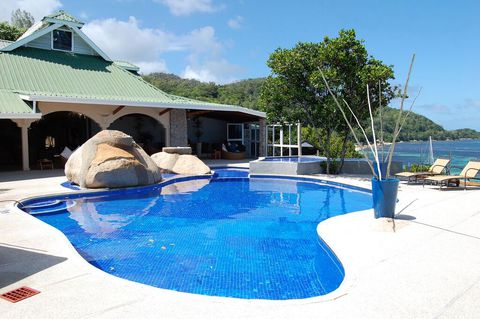 The Seychelles Archipelago is made up of 115 islands, many of which are uninhabited. In fact, the population of the country is a mere 90,000. The most common places for visitors to stay at are the islands of La Digue, Mahé and Praslin. However, with many other places also worth seeing, it is fairly common for people to do a little bit of island hopping.
The Outer Seychelles are coralline and mostly uninhabited. Visitors are rare and traveling there is done via private yacht or small local planes. It is in the Inner Seychelles where the vast majority of the Seychelles' population lives. There are the granite islands, home to the bulk of the country's resorts. This is also where the capital, Victoria is located.
For more help on where to stay, click here.
No visa is required to enter, but the authorities will be making sure that you are not staying for good. You will be asked to present
- A passport valid for at least six months,

- Return ticket,

- Hotel voucher,

- At least 150 usd per day (they might also ask for a credit card and credit card balance) and

- A statement of good health and a statement that you are not importing plants of infected animals.

Mahè

Mahè is the largest of the 115 islands and full of activities. The capital, Victoria, is also located on this island. 90% of the Archipelago's population live in Mahè. The island is perhaps the most popular tourist destination, because it is easiest to reach since the international airport is also located there. The most popular places to stay at are Beau Vallon and the capital Victoria.

The island of Mahè offers more than 60 amazing beaches and coves so for the sun-worshippers it is a real paradise. There is, however, more to it than just the beaches. The island offers waterfalls, jungle, mountains and activities such as kayaking, diving and rock climbing. Mahè is easy to explore by buses or by hiring a car and driving around yourself.

Mahè also has a very lively nightlife with many bars and nightclubs. They are often hosted by famous local DJ's and have a great atmosphere. There is also a nine-hole golf course available on the island for the ones that are into the sport.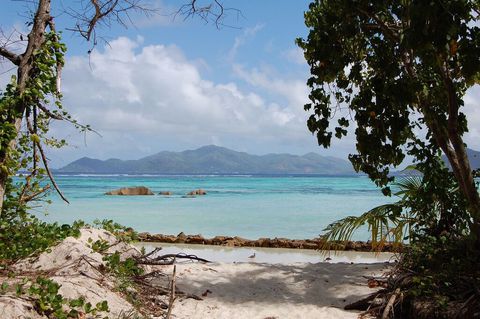 Praslin

Praslin is the second largest island in the Seychelles. However, it is far more laid back and far less developed than neighboring Mahè. The island is famous for its beautiful beaches, such as Anse Lazio and Anse Geogette. It is easy to move around by buses that are really cheap and cover pretty much all of the island. It might not be your place if you are looking for a lot of sightseeing, but that is something others see as an attraction. Just a perfect beach after another...

Praslin offers a great range of accommodation to every budget. The island is small enough and the good accessibility means that it does not really matter where you stay: the whole island and its beauty will be within your reach. Getting to Praslin is easy from Mahe: you can either take a small plane or a 30 minute boat trip!
There is also a golf club on the island for the ones that are into the sport. It is an 18-hole championship course designed by Rodney Wright and Marc Farry.
For more about golf visit here.
La Digue

For the ones that are looking for a really relaxed atmosphere and want to enjoy amazingly beautiful beaches, La Digue is probably the best option. There are only 2,000 inhabitants, no airport and only a handful of road vehicles. It is possible to visit the island as a daytrip from Mahè or Praslin, but if you truly want to experience the atmosphere, you might want to stay few days.

La Digue is the smallest of the three main islands. In fact, it is so small it is fairly easy to go around it with a bike. Bikes are often provided free by the hotels, but they can also be hired from several places around the town. When visiting La Digue, one should try the Anse Source d'Argent. It is a beach, which is regarded as one of the most beautiful ones in the world!

Getting to La Digue is easy. There is a 15 minute boat ride from Praslin and about a 90 minute ride from Mahè. There are different type of accommodations available as well. One can choose from a luxury hotel to a boutique hotel or a small guest house.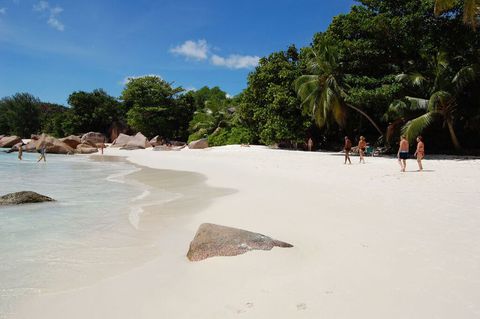 Private Islands

If you are willing to invest more to your stay in the Seychelles, you should try the private islands. They offer amazing luxury in big villas, white-sand beaches and private pools. Each of the islands are reserved only for the guests visiting, so they offer a chance to see what it feels like to have an own tropical island paradise!

One can also take a flight to the Outer Islands, where the opportunities for diving are the best! There are columns and caves to explore the wide range of marine life. One can expect to see reef fish, turtles, mantas and hammerhead sharks. Not too many of the outer islands have accommodation, so be sure to check where you are going. One place recommended by traveling sites is Desroches Island, 230 km from Mahè.