Kuwait City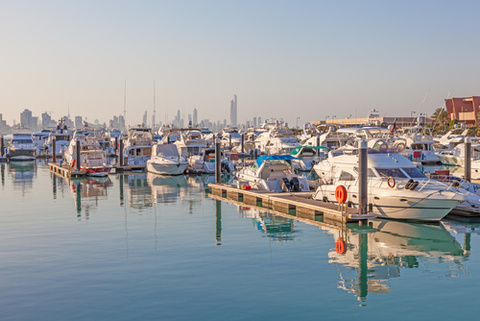 Kuwait has a population of 4.2 million people; 1.3 million are Kuwaitis and 2.9 million are expatriates. Expatriates account for 70% of the population. Arabic is the official language of Kuwait, but English is widely spoken. Kuwait City is the economic, cultural and political capital of the Arabian Gulf nation of Kuwait. Kuwait City is a mixture of exclusive Western-style hotels, designer shopping malls, traditional Islamic architecture, street markets, and still war-torn buildings. Kuwait Towers, Sharq, Kuwait's unofficial symbol, found on everything except the flag, are Kuwait's top attractions. Designed by Swedes, built by Yugoslavs, and opened in 1979, they're interesting up close, as the spheres are covered with a funky polka-dot pattern made up from coloured circular plates. The first, 178 m (583 ft) high, houses the Viewing Sphere (123 m [403 ft]) complete with a rotating viewing platform.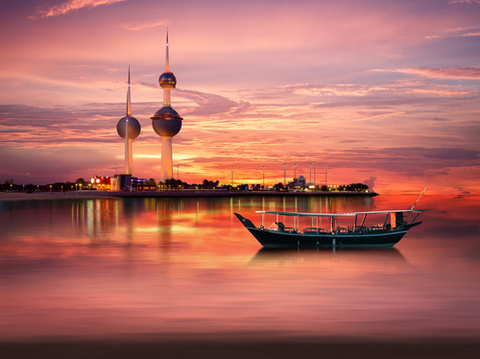 One can also walk along many of the well-kept sidewalks that line the coast of Kuwait. At dusk, it's ideal to sit on a bench across from the Sharq Mall and watch the sunset on the Arabian Sea. Buy yourself a cheap sack of nuts or bagful of olives from the souq in the fish market.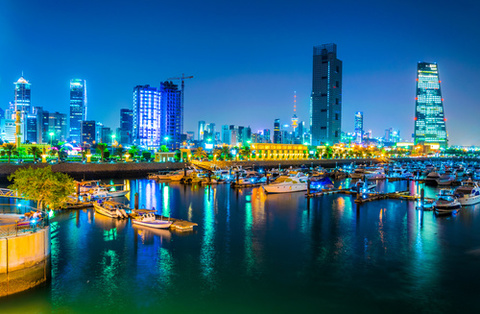 There are quite a few things to do in Kuwait City. It is possible to have lunch or dinner in the Kuwait Towers. It is worthwhile to take a tour of the Grand Mosque in Kuwait. There are great restaurants which include the delights of Iranian, Lebanese and Bedouin foods. Western-style shopping centres: Souk Sharq (Kuwait City) and Marina Mall (Salmia), The Avenues is a new mall which has come up and is one of the largest in Kuwait. Traditional markets: Souk Al Mubarakiya, The Mahameed markets. The Al-Fanar mall in Kuwait has restaurants, cafes and many shops like Ralph Lauren and Lacoste.
Islam is the official religion in Kuwait, with most of the citizen population being Muslim. Most expats in Kuwait are Muslim, Hindu, Christian or Buddhist. As Kuwait is a mostly Muslim country it is important to wear respectable clothing. Kuwaiti malls are full of young Kuwaitis in shorts, tight clothing, etc. Along with Dubai, this is one the few places in the region it is easy to get away with wearing shorts if one wants to.
There are plenty of social activities to get involved with, especially sport. Also available are theatre groups, ramblers, choirs, and business associations (in conjunction with various of the Western embassies).
Weather
In Kuwait, the Sun shines all year round.
Winter, from December to February, is mild: the daily average temperature in January is 13.5 degrees Celsius (56 °F). Nights are cool, on average about 8/10 °C (46/50 °F), but sometimes the temperature can drop to 0 °C (32 °F). Days are mild or pleasantly warm, around 19 °C (66 °F) in January, and 21/22 °C (69/71 °F) in December and February, but with peaks of 27/30 °C (81/86 °F) when the wind blows from the south. In winter the sun often shines, but some cloudy days also possible, even with some rain. In spring, the prevailing weather is nice and sunny; the temperature rises rapidly, and already in April highs are around 33 °C (92 °F). The wind from the Arabian desert can raise the temperature and bring sandstorms: as early as in April it can exceed 40 °C (104 °F), and in May even 45 °C (113 °F). Summer in Kuwait is scorchingly hot and windy; the prevailing wind blows from the interior, therefore the influence of the sea is minimal. From June to August, the temperature is normally around 45/46 °C (112/115 °F), and around 29/30 °C (84/87 °F) at night. High-temperature records are around 52/53 °C (125/127 °F). Relative humidity is very low (it often falls below 10%), and combined with the wind, it can cause dehydration. Fortunately, public buildings and hotels are equipped with air conditioning. In autumn, the weather is still hot and sunny in October, while during the month of November the temperature drops below 30 °C (86 °F).

Travel
Exploring the Gulf region becomes a relatively low-cost diversion whatever an adventurer's tastes may be: rock climbing, snow skiing, scuba diving, fishing, drinking, dancing or whatever.
Sorry, no jobs at the moment for this category and search.