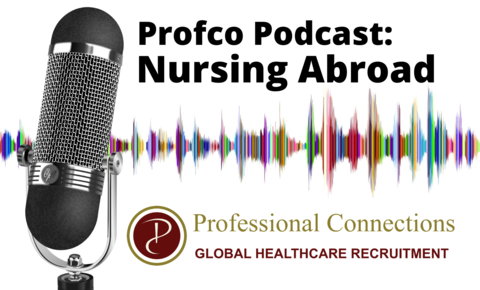 Professional Connections proudly presents our latest initiative in our efforts to connect with new and existing candidates, the "Profco Podcast".

The Profco Podcast is a resource for nurses considering working abroad and a place to discuss both the benefits and struggles our nurses have faced in their new positions.
In each episode we plan to cover a different topic, focusing on various aspects of their experiences of the recruitment process. During the "Profco PodPals" episodes, we will chat with some of our Nurses who have already made the move abroad - and ask them about their experiences of adjusting to living in a new country, comparing their new work environment, and their new social life, with the one at home.
These will alternate with our own informative episodes about the paperwork and procedures involved, and how the Profco team will hold your hand and guide you throughout each step of the process.
We hope that this Podcast will be fun, and informative, and that it will help you with your own decision about whether to embark on the same journey yourself.
Follow Profco on SoundCloud to be notified of all the latest episodes as they are released.
Happy listening!
Vacancies: