Princess Nourah- King Abdullah bin Abdulaziz University Hospital (KAAUH)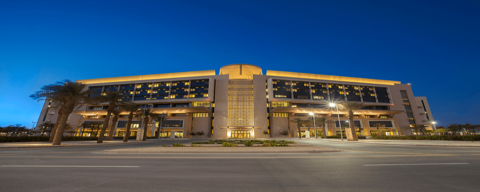 See the video of the University Hospital.
A 406-bedded teaching hospital, accredited by JCIA and CBHAI. Presently there are centers of excellence in women's health, paediatric and adolescent health, including a Child Development Center specializing in autism and attention disorders. There is also provision of integrated services in internal medicine, psychiatry, orthopaedic, urology, colorectal, breast, bariatric, plastic and endocrine surgery, otorhinology, ophthalmology, dental and maxillofacial surgery. Additional specialties soon to be added are cardiac surgery, cardiology, vascular surgery, neurosciences, neurosurgery surgery and oncology. The organization has commenced the journey to Magnet recognition, an accreditation awarded to exceptional health care organisations.

KAAUH is located on Princess Nourah bint Abdulrahman University (PNU) campus, which has 20 colleges with 121 academic programs, PNU is a premier academic institution dedicated to graduating exceptional, highly qualified specialists based on international standards. The hospital was officially inaugurated on 28 March 2017. Additionally the campus hosts an impressive Health Sciences Research Center and the largest Simulation Center in the Middle East.
Vacancies: