Royal Prince Alfred Hospital (RPA), Sydney, Australia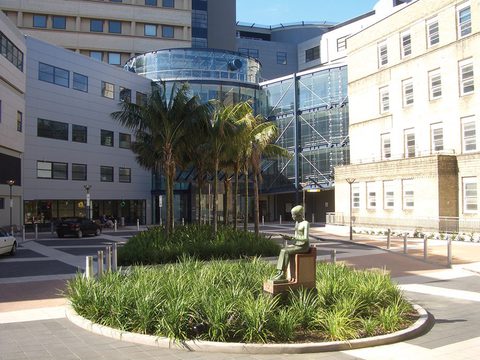 Royal Prince Alfred Hospital (RPA) is the oldest teaching hospital in NSW with a world-wide reputation for standards of excellence, innovation and research. It is one of the most culturally diverse areas in Australia. RPAH provides specialist services in many disciplines to Sydney, New South Wales, Australia and to neighbors in the South West Asian/Pacific region. RPA provides an extensive range of diagnostic and treatment services to more people in NSW than any other public hospital. More than 1000 patients are treated at RPA every day.

Pioneering work by dedicated staff has earned RPA a world-wide reputation with many firsts including:
First open heart surgery in New South Wales
Australia's first perinatal medicine Unit with the first fetal heart monitor
First aortic valve replacement
First triage nurse in Australia
First coronary angiography in New South Wales
Today RPA is one of Australia's busiest specialist referral centers, with a dedicated staff of 3,500 providing care for close to 57,000 inpatients and 600,000 outpatients. Additionally, more than 44,000 people attend the Emergency Department and 4,000 babies are delivered.
Send us your CV jobs@profco.com
WhatsApp +447393535590
https://www.facebook.com/Profco/
Lifestyle
The hospital is situated on Missenden Road. If you stand at the entrance of the hospital, facing the street, in front of the 1882 fa├žade, the choices open to you are as wide as the points of the compass.
If you were to walk to your left, you would quickly reach King Street and the suburb of Newtown. Here there is a cornucopia of cafes and interesting shops interspersed with great pubs.
From King Street you can catch a 370 bus which will take you to Coogee and the eastern suburbs beaches of Sydney where the blue waters of the Pacific Ocean roll onto miles of golden sands. From Coogee there is a magnificent cliff-top walk to the famous Bondi Beach, where you can sun-bake and swim all day and rage all night at the many waterfront cafes, clubs and bars.
Back to the front entrance of RPAH, in front of you and slightly to the west, is Parramatta Road where you can walk or take a short bus ride to Norton Street. This area is the Little Italy of Sydney where charming cafes with pavement tables serve the best Italian food outside of Italy, interspersed with little bookshops and fashion boutiques. And off Norton Street, is the Italian Forum which replicates a typical Italian piazza with two levels of cafes and shops and three levels of residential apartments.
Vacancies: