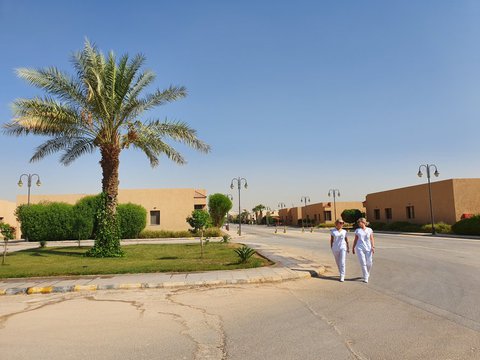 Source article in Finnish September 2019 . This is Al Yamama 3 Compound, nurses accommodation.
To apply for a job at this hospital email your cv to jobs@profco.com.
Call our Helsinki office (09) 4245 1027 or 040 5824733, UK 0203 519 2258 or whatsApp + 44 7393535590.
Translated by Professional Connections
Annu and Mila got tired of nurses not being valued in Finland - now they earn more than double as VIP nurses in Saudi Arabia
The nurse sisters went to the Middle East for a higher salary, but they got something even better: their professional pride back.
Annu and Mila have not been bothered by the cool holiday weather in Finland this summer. It has only been a welcome change, as in the sisters' current hometown Riyadh, Saudi Arabia, the temperature has been hovering over 40 degrees year-round. Every time you step outside, it feels as if a hair dryer is blowing against your face, the girls say.
Riyadh, a metropolitan city in the middle of a desert in Saudi Arabia, became the home of the twin sisters from Turku three years ago when the two nurses decided to go to the Middle East for better wages.
- At first we thought about going to Norway, but it was too close to home. We wanted to experience something more exotic, the sisters tell us.
The first cultural shock struck them at the airport already. Annu and Mila had read about the culture of the extreme Islamist country, but it was a different matter to see for themselves how the local women walked veiled everywhere. The sisters' new home was located in an area built for Western workers. The area, with its swimming pools and cafes, resembled a holiday village - with the exception that it was surrounded by barred fences and armed guards.
"It felt like we were put in a big bird cage," Annu says.
VIP nurses
In Finland, Annu and Mila had worked as nurses in various hospitals. In Riyadh they were placed in the Royal VIP ward of a large hospital. As the name suggests, the ward cares for people of very high social standing, such as royalty. The job description is extensive, as the ward handles all ailments from internal to surgical diseases, as long as the patient has a VIP status. The employees are demanded more than in Finland, but they are also paid for it. The skills of the staff are constantly tested through various tests and courses that must be taken during leisure. This is self-evident to the employees because the salary is so good.
- In Saudi Arabia, the work of a nurse is valued, while in Finland it is perceived as a vocation, says Annu.
- In Finland, 'appreciation' is nothing but empty compliments. When the talk turns to the tangible measures of appreciation, such as salary or other benefits, appreciation is no longer found. I see no reason for a nurse's salary being worse than an engineer's for example, Mila continues.
In Saudi Arabia, salary is determined not only by the skills of the employee but also by the performance. Work performance is assessed each year in evaluation discussions. The evaluation also asks for the opinions of colleagues. Personal salary raises competition among employees, but also motivates everyone to do their best.
For the ambitious sisters, this works well.
"I like the mentality of this country that when you do your job well, you will be rewarded and given opportunities to progress."
A nurse is allowed to be a nurse
According to the sisters, nurses in a hospital in Riyadh can also focus on what they have been trained for, while in Finland a nurse sometimes has to be a doctor, a practical nurse, a physiotherapist and a facility assistant.
In Riyadh, nurses also have fewer patients at a time than in Finland. The VIP ward has 2-3 patients per nurse, while the other wards have a maximum of four patients.
"Hecticism is part of the job of a nurse, but I have not experienced such a crushing feeling of inadequacy here as in Finland," says Annu.
The two women have professional confidentiality to keep their salary a secret, so they cannot disclose the exact amount of their payslips, but per month they get more than double than what a nurse in Finland earns. An annual bonus equal to about one month's salary is paid annually. Overtime work also pays well, and you can do as much overtime as you want.
- Last month we worked 86 hours overtime. Basically it's up to you how much you want to make, Mila says.
Dozens of nurses leave Finland every year for the Middle East. In addition to wages, Western workers are attracted to the country by other employment benefits. For example, Annu's and Mila's employment contracts include 61 days of paid holidays a year, and the employer pays for housing and transportation to work. If it works for them, Western nurses can live in Saudi Arabia at very low cost.
- We didn't come out here to pay the mortgages; we decided to enjoy the experience first and foremost. Of course, money will be saved, but we are also very good at using it for travel for example, says Mila.
Spouses in Turku
Annu and Mila were concerned with sharing not only work, but also home and friends in Saudi Arabia. They have always been close but different by nature. In Finland, both have had their own lives and their own circle of friends.
- I thought it was a bad thing that we had to spend so much time together. At first I took it really hard, but a similar life situation has only brought us closer together. I have found new sides to Annu. She is fun as a friend too, Mila laughs.
However, moving to Saudi Arabia has required sacrifices from the private lives of the sisters. Both sisters' spouses are still living in Turku, and the couples see each other only a couple of times a year.
Relationships are maintained through Skype. After months of being apart, seeing one another feels wonderful and horrible at the same time. Combining one's own routines with the spouse's daily life always seems difficult at first.
- Reunion is not all happy happy joy joy; at first it can be awkward and even a little embarrassing. Although my husband and I have been together for seven years, after spending a long time apart, we feel like we're strangers to each other for a little while, Annu describes.
Living in a long-distance relationship requires both spouses to have the patience and confidence that they will be together still. The women suggested marriage to their partners, when it became clear that they would stay in Saudi Arabia for a longer period.
In Saudi Arabia, dating or cohabiting are not "legal". For couples to enter the country, you must apply for a family visa, which is only granted to married people.
- At first, Mila and I talked about getting married as a joke. We sent a message to our partners saying "we should get married so that you could visit us", Annu says.
The spontaneous joke quickly became reality and the sisters' shared weddings were celebrated six months later. Because of the distance, the men were responsible for the wedding arrangements, and the women walked straight from the airport to the registry office.
- Some people have commented that this kind of a relationship cannot work. It has felt really offensive. For me, getting married is a sign that me and my husband have a strong desire to be together, says Annu.
Here's the balance
When leaving Finland, Annu and Mila were tired of their work and even contemplated a change of field. In Saudi Arabia, they have rediscovered their professional pride.
"Unlike in Finland, it is nice to go to work in Riyadh and the work itself is pleasant," says Annu.
"I want to develop my skills and I want them to be reflected in my salary. If in the future that means a change of the line of business, I'm still ready for it".
Recently, returning home has often crossed the minds of the sisters, but it is difficult for them to see themselves working as nurses in Finland. Fighting for the rights of nurses has become a matter of heart for them.
Little by little, the sisters have gotten addicted to Saudi Arabia as a country also, with its friendly people and culture with all its strangeness. What initially seemed to be a restrictive bird cage nowadays means safety to them; they are taken care of.
Of course, there is something to criticize as well. For example, gender restrictions and a culture where bodies are all covered up, can sometimes lead to frustrating situations at work. Women are allowed to take care of men, but sometimes a man may refuse to be treated by a female nurse. And sometimes female patients do not want to reveal their faces to male doctors, which can complicate diagnosis.
"As a Finn, it has been difficult to get used to how strongly religion and culture influence even a hospital environment," says Mila.
Annu, in turn, is angered by people's inequalities.
- Of course inequality isn't targeted towards Westerners, but it makes you angry to look at it from the side. In here, families have practically slaves working for them. I miss equality and civilization, and the idea that all people are the same (and therefore equal).
Life between the two countries will probably continue at least until next spring, as the sisters just signed an employment contract for their fourth year in Saudi.
- Before signing the contract, I discussed with my husband. He said that no one would benefit from me returning to Finland just for his sake. The decision has to be made by me, Annu says.
Salary has become a secondary matter over time, the meaningfulness of work is more important.
- I feel that now I have became the kind of nurse who I always wanted to be. My work is valued, it is interesting and I have the opportunity to develop.
- What we know how to do and what is paid for that knowledge, are in balance, Mila says.
Vacancies: